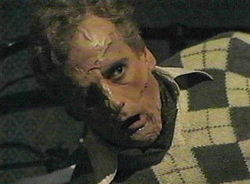 George Cranleigh was an explorer and botanist. Scion of an aristocratic Oxfordshire family, he was the son of Lady Cranleigh and brother of Charles Cranleigh. He was engaged to Ann Talbot.
After returning from a trip to the Amazon, searching for the black orchid, he was deranged and disfigured. He had been captured, tortured and mutilated by the natives in the jungle. A friendly tribe returned him home where the engagement was cancelled.
George was still in love with Ann and so stalked her round the house and murdered two of the servants, Digby and James. He captured Nyssa mistaking her for Ann, he took her to the roof and was followed by Charles and the Doctor, he soon realised it was not Ann. He returned Nyssa to the Doctor but then fell from the roof to his death. He was the author of the book Black Orchid.
Ad blocker interference detected!
Wikia is a free-to-use site that makes money from advertising. We have a modified experience for viewers using ad blockers

Wikia is not accessible if you've made further modifications. Remove the custom ad blocker rule(s) and the page will load as expected.