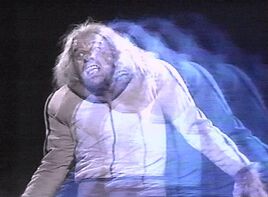 The expedition to Zeta Minor began with eight men. Seven were murdered. One survived - but he was not the murderer. The Doctor lands on the planet at the same time as the expedition's rescue team, and is immediately taken prisoner - the suspected murderer. But even stranger things soon begin to happen...
The TARDIS picks up a distress call and the Doctor and Sarah arrive on the planet Zeta Minor. There they discover that a Morestran geological expedition has fallen prey to an unseen killer and only the leader, Professor Sorenson, remains alive.
A military mission from Morestra has also arrived to investigate. At first they suspect the Doctor and Sarah of responsibility for the deaths of the expedition members, but the culprit is eventually revealed to be a creature from a universe of antimatter, retaliating for the removal by Sorenson of some antimatter samples from around the pit that acts as an interface between the two universes.
The Morestrans take off in their ship, but it is slowly dragged back towards the planet due to the antimatter on board. Sorenson himself becomes infected by antimatter and gradually transforms into antiman, a monster capable of draining the life from others.
The Morestran commander, the increasingly unhinged Salamar, attacks Sorenson with a radiation source but this only causes him to produce multiple anti-matter versions of himself, which soon overrun the ship. The Doctor finds the original Sorenson, takes him back to the planet in the TARDIS and throws both him and his samples into the pit, fulfilling a bargain he earlier made with the anti-matter creature. Sorenson reappears unharmed, and the Doctor returns him to the Morestran ship, which is now freed of the planet's influence.
Ad blocker interference detected!
Wikia is a free-to-use site that makes money from advertising. We have a modified experience for viewers using ad blockers

Wikia is not accessible if you've made further modifications. Remove the custom ad blocker rule(s) and the page will load as expected.