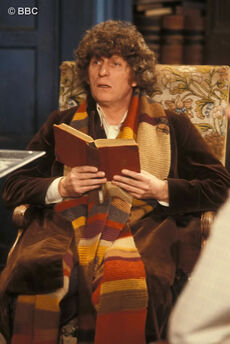 Shada is an unaired serial of the British science fiction television series Doctor Who. It was intended to be the final serial of the 1979-80 season (Season 17), but was never completed due to a strike at the BBC during filming. In 1992, its recorded footage was released on video using linking narration by Tom Baker to complete the story.
The story revolves around the lost planet Shada, on which the Time Lords built a prison for defeated would-be conquerors of the universe. Skagra, an up-and-coming would-be conqueror of the universe, needs the assistance of one of the prison's inmates, but finds that nobody knows where Shada is anymore except one aged Time Lord who has retired to Earth, where he is masquerading as a professor at St. Cedd's College, Cambridge. Luckily for the fate of the universe, Skagra's attempt to force the information out of Professor Chronotis coincides with a visit by the professor's old friend, the Doctor.
Ad blocker interference detected!
Wikia is a free-to-use site that makes money from advertising. We have a modified experience for viewers using ad blockers

Wikia is not accessible if you've made further modifications. Remove the custom ad blocker rule(s) and the page will load as expected.